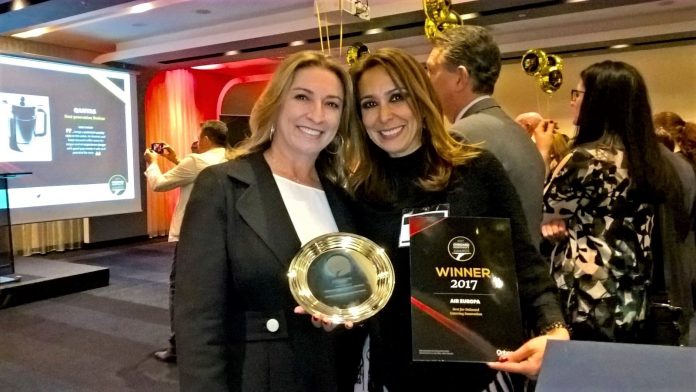 This is the second consecutive year in which the company has been awarded a prize in different categories. The Managing Director of the airline, María José Hidalgo, collected the prize and emphasised the airline's commitment to always offering the best service to passengers
Once again this year Air Europa played a prominent role in the renowned Onboard Hospitality prizes when it emerged as winner in the catering sector innovation category, with its new organic and sustainable menus that are served onboard on European routes.
The air division of the tourist group Globalia was a finalist after thousands of votes were cast online by readers of the Onboard Hospitality magazine, who classified it among the best three airlines in the sector. Seventeen other airline companies were competing. Last night during a gala celebration in Hamburg a panel of experts proclaimed Air Europa as winner.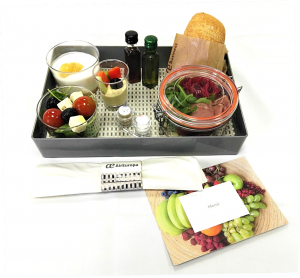 Managing Director of Air Europa, María José Hidalgo, showed his pleasure when collecting the prized award, and he emphasised that it serves as recognition for the hard work and commitment of the airline to always offering the best service to passengers.
The Managing Director was accompanied by the airline's Director of Onboard Services, Sandra Lenis, who explained that « customer satisfaction is our priority. It is a really proud moment winning this award for the second consecutive year, it evidences the fact that we constantly strive to confer added value and to make our airline different ».
The commitment of Air Europa to organic and healthy food has resulted in the incorporation of new menus onboard, all of them made up of products with quality of origin certificates, and with which the airline guarantees to contribute to the health and well-being of passengers. Moreover, the food is served in innovative new recyclable containers in order to take one step further in offering a unique customer experience. This was also highly valued by the judges when conferring the prize.
For the second consecutive year Air Europa is a winner of an Onboard Hospitality Prize. In 2016 the airline was granted the accolade in the category of Best Onboard Kit with its business class amenity set.

Commentaires
commentaires